PACKAGES
Legal 101 Masterclass
The world of regulatory compliance is constantly changing. Your staff need to be aware of their requirements when pitching, creating and executing campaigns.
In these masterclasses, we step your team through the legal requirements for running a smooth campaign, activity or promotion.
INCLUSIONS
A one hour session with your team run online or in person, with time for Q&A
Slides to run through on video call or in person
DELIVERABLES & OUTCOMES
Education for your team on key topics
Latest cases and examples to keep it interesting and relevant
We would happily discuss running one for you and your team. Current Masterclasses include:
Promo 101
Covers a basic overview of promotions, including trade promotion lotteries, games of skill and conditional offers, with discussion of permits, terms and conditions, advertising requirements, social media and other watch outs.
Changes to the Food and Beverage Code
Covers updated code (Nov 2021) on occasional foods, targeting of children, sponsorships, prizes and vouchers.
Changes to the AANA Code of Ethics
Covers latest changes (Feb 2021) on gender stereotypes, sexualised imagery, implied violence, unsafe practices of concern and influencer marketing.
Agency workshop/s
Top legal issues, pitfalls, risks and land minescovers contracts and disputes, different forms of IP, ownership and infringement, supplier and production risks, talent issues, campaign clearance
Media lawcovers the current state of play for agencies in planning and buying media – including transparency, online media and programmatic, brand safety, reporting, the AANA template, and key issues in contract negotiations.
Enquire about this package


A MUST READ FOR EVERY CREATIVE AGENCY AND BRAND
The little black book
7 secrets revealed for turning the right legal representation & frameworks into a competitive advantage.
In this guide we reveal how the traditional legal delivery model is broken and how you can:
Win more projects
Work faster
Lower your risk exposure
Improve your client relationships
Save money
Say goodbye without burning bridges
Run a better agency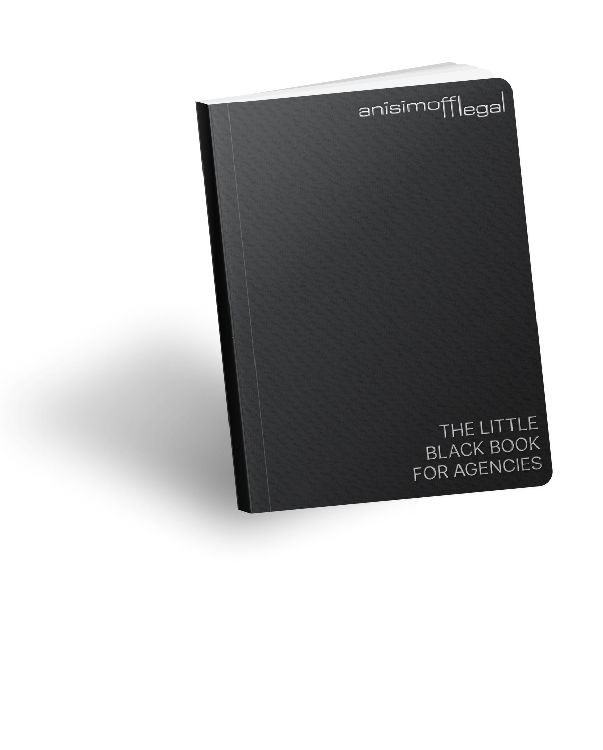 Resources for agencies and brands
We'd love to hear from you!
Please reach out to us below or call our office to speak to one of our team.
Sydney: (02) 9460 6611
Melbourne: (03) 9866 3644
Central Coast: (02) 4331 0400
FAX: (02) 9460 7200