PACKAGES
Production Success Accelerator
The key to any successful business is the smooth operation of its teams and minimising the drama.
In this package, we focus on your marketing team. We take a fresh look at your marketing compliance and client approval processes, and relevant agreements. There are certain areas of the marketing process where drama and risk can creep in, particularly as a team grows. We aim to tighten up any compliance gaps and ensure you have the right systems in place, to ensure your team can run smoothly, with less drama. That way you personally don't need to have complete personal oversight of every detail of every project.
We will provide you with a set of updated documents and procedures, to ensure your marketing team is set up for success.
INCLUSIONS
We review your supplier agreement, Purchase Order and estimate terms and provide you with new or updated templates
We review your client approval process including how your clients sign off on work, and costs
We review your marketing clearance process, including checklists, compliance review steps, and any staff training
We get to know the key risks and requirements for you and your team
We run a staff training presentation to take your team through the new agreements and key issues e.g. engaging talent, suppliers and IP.
DELIVERABLES & OUTCOMES
A cohesive set of supplier and signoff documents that work together and minimise room for error.
A compliance process for successful marketing projects and managing risks.
Staff who are clear on the approval processes, what risks to look for and when to get help
Enquire about this package


A MUST READ FOR EVERY CREATIVE AGENCY AND BRAND
The little black book
7 secrets revealed for turning the right legal representation & frameworks into a competitive advantage.
In this guide we reveal how the traditional legal delivery model is broken and how you can:
Win more projects
Work faster
Lower your risk exposure
Improve your client relationships
Save money
Say goodbye without burning bridges
Run a better agency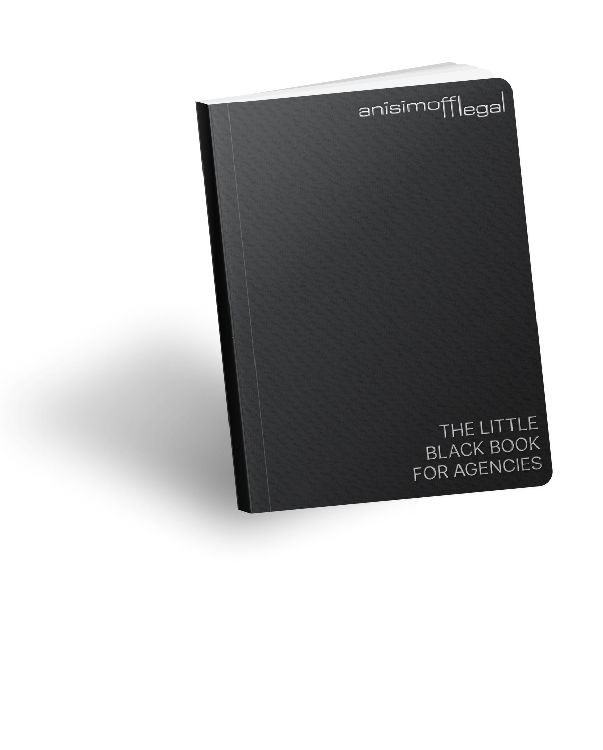 Resources for agencies and brands
We'd love to hear from you!
Please reach out to us below or call our office to speak to one of our team.
Sydney: (02) 9460 6611
Melbourne: (03) 9866 3644
Central Coast: (02) 4331 0400
FAX: (02) 9460 7200