WE'RE HERE TO HELP
Branding, Trade Marks & IP
The brands and intellectual property of a business are among its most valuable assets, and without the right advice you can so easily be under-protected or exposing yourself to unnecessary risk.
ARE YOUR MAIN BRANDS ACTUALLY YOURS TO USE?
It may sound like a strange question, but if you have recently started using a new brand, are you sure that it doesn't actually already belong to someone else? Trade mark searches are an imperative part of any brand launch strategy and are so often overlooked in the excitement of getting a new brand to market. We assist at this early stage with trade mark advices tailored to suit your timeframe and budget, in Australia and overseas.
TRADE MARK REGISTRATIONS
Have you sought and obtained registered trade mark protection for your main brands? While using a brand in an unregistered form is not illegal, you are not in the best position to stop others using it as well! . It can take years to establish a reputation in your brand and develop brand equity with your customers. If your mark is not registered, it is so much more exposed to dilution in the meantime and you are risking everything you worked so hard for. A trade mark registration gives you a monopoly in your category over your brand and a secure, valuable IP asset. We can help draft and file your application, and manage the process right through to registration.
BRAND PORTFOLIO MANAGEMENT
We help with registering and maintaining your key names and brands including business, company and domain names.
We handle disputes, cease and desist letters, oppositions and non-use applications to make sure you are defending the protected status of your brands in the market.
COPYRIGHT
When it comes to artistic works, literary works, musical works and everything in between, sometimes the best creative can be extremely close to someone else's intellectual property. This creates various practical problems – how do you protect your own rights while not infringing those of any third parties? You need expert assistance to work out whether your plans pose a problem, and in charting the way forward. Our lawyers are experts on copyright and all forms of intellectual property, but also know the commercial realities of the industry. We can also advise you on protecting your intellectual property through appropriate strategies and agreements. As specialist advisers to brands and agencies, we appreciate the value of an original idea and top-end creative work, and we can advise on how to maximise protection of your confidential information, including your creative concepts and presentation materials.
DESIGNS AND PATENTS
"I have a great idea for a new product, can you patent it for me?" Maybe, but is it a patentable property? It may actually be a copyright work, or a design, or not protectable at all. Our team helps you navigate the complex world of design and patent law so that you can protect your rights to the greatest extent possible, whatever your concept and property may be.


A MUST READ FOR EVERY CREATIVE AGENCY AND BRAND
The little black book
7 secrets revealed for turning the right legal representation & frameworks into a competitive advantage.
In this guide we reveal how the traditional legal delivery model is broke and how you can:
Win more projects
Work faster
Lower your risk exposure
Improve your client relationships
Save money
Say goodbye without burning bridges
Run a better agency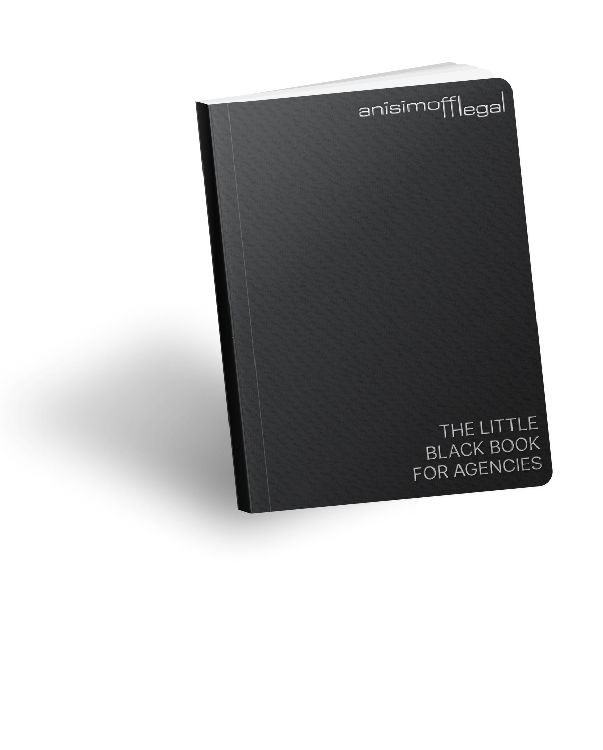 Resources for agencies and brands
We'd love to hear from you!
Please reach out to us below or call our office to speak to one of our team.
Sydney: (02) 9460 6611
Melbourne: (03) 9866 3644
Central Coast: (02) 4331 0400
FAX: (02) 9460 7200