WE'RE HERE TO HELP
Clearance + Compliance
Your advertising materials and packaging are key to growing your brand and positioning you in the market. While you want to minimise legal risk, you also don't want the lawyers hampering your messaging, or holding up the process with flaky or slow advice.
We offer a very specialised, responsive and cost effective service for advertising and marketing clearance, regulatory reviews and advice.
SPECIALIST CLEARANCE SUPPORT
The benefits of using a specialist advertising and marketing lawyer for marketing clearance, is that they can efficiently and speedily look at your marketing materials, provide very clear and easy to follow advice, with practical and creative solutions to be able to overcome legal issues in a way that does not dampen the message. We can provide a very efficient service and work with your marketing team in a collaborative and meaningful way to allow you to achieve your marketing objectives, and identify legal issues quickly and clearly.
HIGHLY REGULATED AREAS
There are some areas that are more highly regulated than others in advertising and marketing, some of the obvious ones being food and beverage, therapeutic goods, consumer credit and finance, liquor, insurance, gambling, gaming and health. We specialise in these areas as we find that clients in these areas gravitate to a specialist lawyer who advises in these areas regularly.
WHAT ADVICE CAN WE PROVIDE?
Final clearance is only part of the creative process, but we can work with you right through from concept development, through all stages of the creative process to execution to ensure compliance with all applicable laws and codes. We can provide one off advertising review, for specific pieces that might raise an issue, or we can set up arrangements for higher volume or more regular clearance reviews. We can act very much like a part of your inhouse review team, whether on a permanent basis or during times of high marketing activity. What is important is that we are easily able to fit into the compliance process and have a handle on all the issues to look for, including specialist regulation, consumer and competition laws, intellectual property and passing off issues, and of course all of the advertising codes.
We can also review packaging materials whether for food and beverage, consumer goods, therapeutic or cosmetics or other products.
We can provide regulatory advice on compliance with all manner of laws, regulations and Codes in Australia, for events and marketing activities, fundraising, motor vehicles, setting up compliance structures for new products, services or initiatives.
We also advise on and make strategic recommendations on comparative advertising, and product and environmental claims.
YOUR MARKETING CLEARANCE PROCESS
Is your clearance process a bit more ad hoc than you would like? Are you worried about pieces slipping through the cracks or have you had a compliance slip up lately? Is an inefficient review process blowing out your timelines? We can work with you to improve your clearance process, from checklists and compliance cheat sheets, or guidance materials, to staff training or workshops on legal watch-outs.


A MUST READ FOR EVERY CREATIVE AGENCY AND BRAND
The little black book
7 secrets revealed for turning the right legal representation & frameworks into a competitive advantage.
In this guide we reveal how the traditional legal delivery model is broke and how you can:
Win more projects
Work faster
Lower your risk exposure
Improve your client relationships
Save money
Say goodbye without burning bridges
Run a better agency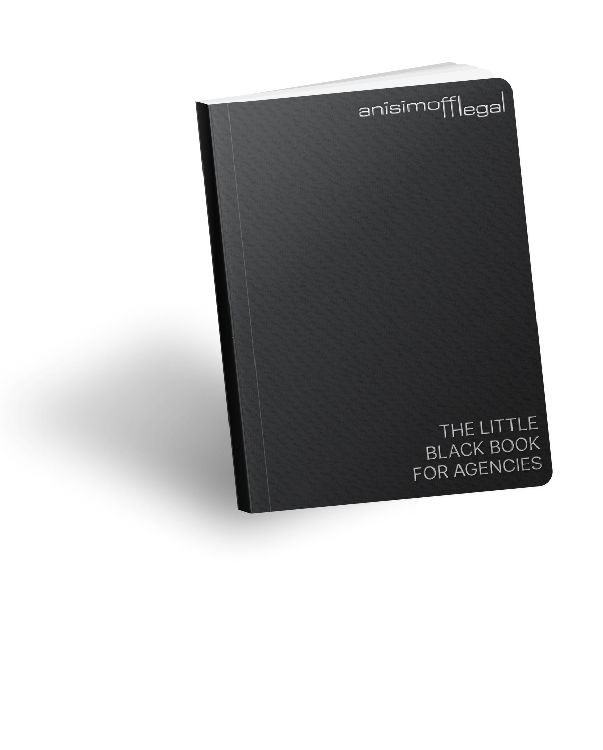 Resources for agencies and brands
We'd love to hear from you!
Please reach out to us below or call our office to speak to one of our team.
Sydney: (02) 9460 6611
Melbourne: (03) 9866 3644
Central Coast: (02) 4331 0400
FAX: (02) 9460 7200