WE'RE HERE TO HELP
Contracts
As a business your contracts lay the frameworks for your relationships and help you regulate and manage your risks. You want your contracts to be in sync with your business, and set up and negotiated in a way that encourages smooth deal making rather than holds it up.
WHAT SORT OF CONTRACTS DO WE HELP WITH?
We are experienced in drafting, negotiating and reviewing all contracts in the advertising, marketing, media, branding and commercial sectors. With our strong industry experience, we can help you with setting up and negotiating your agreements, that are in tune with the latest requirements, and reflect the unique practical challenges you face. We can set up your templates, or advise on a particular set of clauses, or support in contract negotiations. We are also here when things don't go right and you need legal advice or commercial guidance on disputes, terminations or performance issues. Below are some of the types of agreements that we regularly handle for our clients.
CLIENT AND AGENCY AGREEMENTS
We commonly advise on services agreements between agencies and their clients for services ranging from advertising, creative, digital, media buying and planning, SEO, public relations, promotions, e-commerce solutions, and related services. The key requirements are intellectual property, warranties and indemnity, liability protections, cancellations, fees and payment terms, term and termination, and capturing obligations clearly. The unique requirements will depend on the services.
SUPPLIER AND CONTRACTOR AGREEMENTS
Engaging contractors to carry out important services for you requires clear contracts, especially if you have other obligations to other parties, such as clients. Having the right paperwork is essential to set up those engagements in the right way, and to carry over obligations carefully. Some key things to look out with these are intellectual property ownership, making sure the terms are strong enough to protect you in the case of performance issues. We can also advise on vendor agreements for things like software, finance, retailers and other providers.
EMPLOYMENT AGREEMENTS
We help with all types of employment agreements from executives to staff including casual employees. We can also provide advice and guidance on employment issues from advice on restraints and termination issues, to performance issues and entitlements.
TALENT, INFLUENCER, AMBASSADOR AGREEMENTS
It is important to have in place good contracts for engagements with talent, influencers or brand ambassadors who feature in your campaigns or promote your brand, and good release documents, for individuals who appear in advertising material. Key here is making sure usage rights and any rollovers are clearly documented and to manage conduct issues.


A MUST READ FOR EVERY CREATIVE AGENCY AND BRAND
The little black book
7 secrets revealed for turning the right legal representation & frameworks into a competitive advantage.
In this guide we reveal how the traditional legal delivery model is broke and how you can:
Win more projects
Work faster
Lower your risk exposure
Improve your client relationships
Save money
Say goodbye without burning bridges
Run a better agency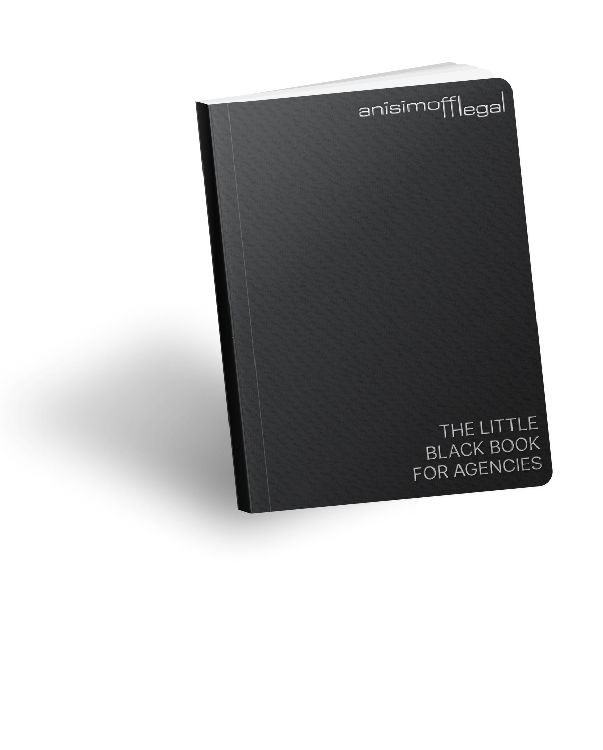 Resources for agencies and brands
We'd love to hear from you!
Please reach out to us below or call our office to speak to one of our team.
Sydney: (02) 9460 6611
Melbourne: (03) 9866 3644
Central Coast: (02) 4331 0400
FAX: (02) 9460 7200