WE'RE HERE TO HELP
Data, Privacy + Digital
An increasingly important consideration in the marketing world is the collection of data, and the use of personal information to inform business practices and future marketing plans, as well as how to best leverage digital platforms for maximum results.
With increasing regulatory requirements and data security risks, businesses need to have clear parameters so they can be assured they are collecting, safeguarding and managing data in a compliant manner. We can offer specialised advice in applicable privacy legislation including the Privacy Act, Spam Act, Do Not Call Register Act and the GDPR, as well as advice on the various contractual arrangements necessary to utilise and leverage the critical role of data in the marketing space.
HOW CAN WE HELP YOU?
We are experienced in drafting privacy policies, collection statements, and website terms and conditions (including e-commerce terms of sale), as well as negotiating and reviewing contracts related to data sharing and digital creative services. We can also provide timely and commercial advice on how to comply with the various requirements when your business and marketing activities involve the collection and use of personal information, such as issues around consent for electronic messaging. We can also advise on the processes and requirements for handling data breaches and data security incidents including mandatory data breach notifications that may be required.
PRIVACY POLICIES AND WEBSITE TERMS
Key to online transactions are the collection of customer data. We can assist you in drafting a legally compliant privacy policy that give you the confidence to proceed with your e-commerce or marketing activities and ensure you are collecting all important customer data lawfully.
A robust set of terms and conditions governing use of your website and any transactions is also a must, and our specialist team has a wealth of experience in drafting and reviewing such terms to ensure all the important issues are covered off and website owners and operators are protected.
EXPERT ADVICE ON PRIVACY LAW
We commonly advise on issues related to privacy compliance, and our specialist team can deliver commercially minded advice to help you navigate your obligations under privacy law with respect to collection and use of personal information, how to address complaints, how to deal with data breaches and how to ensure compliance with ancillary legislation such as the Spam Act and the Do Not Call Register Act.
DATA AND DIGITAL AGREEMENTS
We can help with agreements for the purchase or licence of data sets, data services, as well as advice on data ownership and usage issues under commercial agreements. We can also provide advice and guidance on digital services agreements, which can often involve a heavy data component.


A MUST READ FOR EVERY CREATIVE AGENCY AND BRAND
The little black book
7 secrets revealed for turning the right legal representation & frameworks into a competitive advantage.
In this guide we reveal how the traditional legal delivery model is broke and how you can:
Win more projects
Work faster
Lower your risk exposure
Improve your client relationships
Save money
Say goodbye without burning bridges
Run a better agency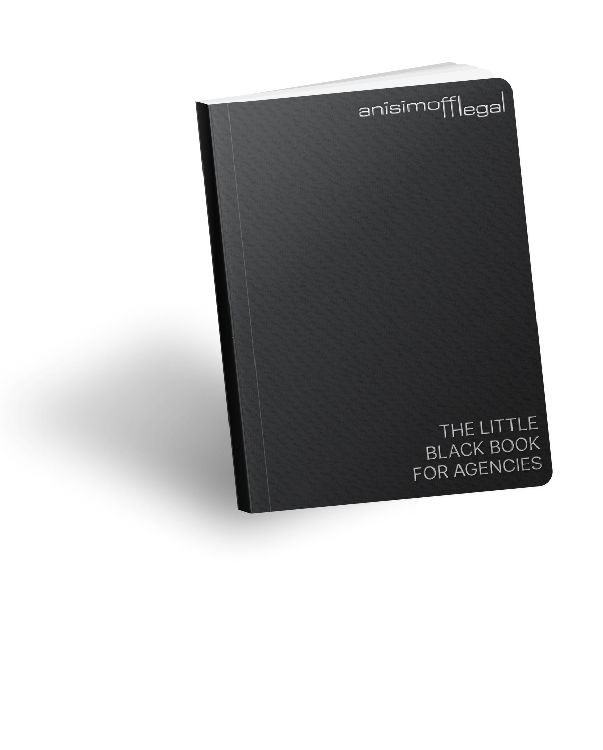 Resources for agencies and brands
We'd love to hear from you!
Please reach out to us below or call our office to speak to one of our team.
Sydney: (02) 9460 6611
Melbourne: (03) 9866 3644
Central Coast: (02) 4331 0400
FAX: (02) 9460 7200