WE'RE HERE TO HELP
Disputes
Despite your best intentions, over a long enough time horizon most businesses will find themselves in a dispute with a third party. While most of the work we do for you in our practice is designed to avoid you getting into disputes, sometimes disputes are unavoidable. It is important to get the right advice at the outset, as missing deadlines or failing to set your position swiftly can be majorly problematic and expensive, and it could see you end up in Court when the matter could have and should have been dealt with long before this point.
What sort of disputes do we handle?
If you think about it there are many ways that disputes can arise for brands and agencies – you may have noticed someone else infringing your trade mark rights or passing off their services as yours, or you have been accused of the same; you may have a performance issue with a supplier, your client may have poached one of your staff in breach of a non-solicitation undertaking; you may have a payment dispute with a client; a competitor may be using content on their website that looks like a direct copy of your own; a regulator might send you a please explain letter regarding your therapeutic good registration or your price claims, a photographer or performer may be claiming breach of usage rights; or a competitor might argue that your recent comparative advertising campaign is misleading, etc.
We can defend complaints under the AANA and self regulatory advertising codes of practice, and claims and complaints from customers or competitors. We can support you through any investigations or queries from regulators such as the ACCC, TGA, food authorities or the lottery departments. We handle all types of copyright disputes, production disputes, contract disputes, trade mark and licensing disputes, shareholder disputes, regulatory disputes, domain name disputes and everything else in between.
Our approach
Too often the commercial perspective gets lost when professional arguers take the lead and battle lines are drawn. As trusted advocates for our clients, we are always ready for a fight if need be, however, long, protracted legal disputes tend to serve nobody but the lawyers. Our approach to dispute resolution and dispute management is to find the kernel of the problem as quickly as possible, and from there we can work with you to determine what your rights and your exposures may be, to see if we can't get everyone back to what they're good at as quickly as possible, and put the painful legal dispute process behind them.
Then, if all else fails and the matter cannot be resolved without the nuclear option of going to Court, we have you covered. Working with our trusted network of litigation experts and barristers, we will ensure you are in the best position possible to get you the best result available.


A MUST READ FOR EVERY CREATIVE AGENCY AND BRAND
The little black book
7 secrets revealed for turning the right legal representation & frameworks into a competitive advantage.
In this guide we reveal how the traditional legal delivery model is broke and how you can:
Win more projects
Work faster
Lower your risk exposure
Improve your client relationships
Save money
Say goodbye without burning bridges
Run a better agency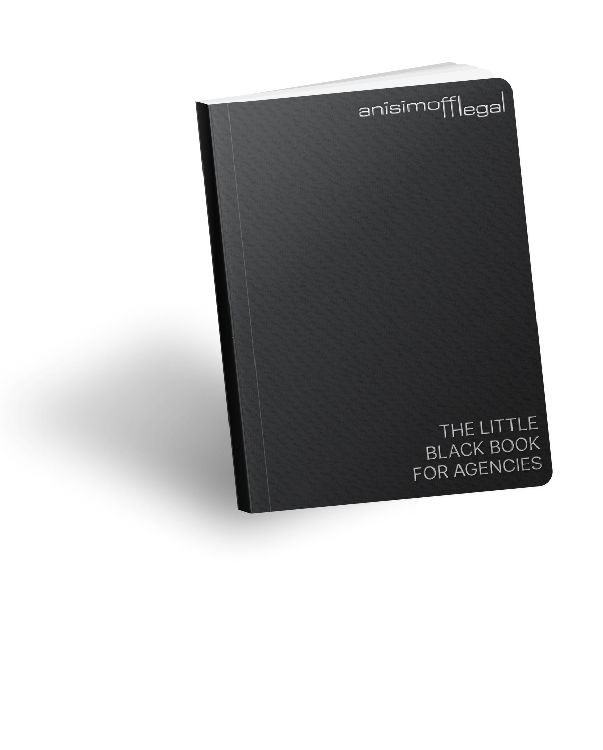 Resources for agencies and brands
We'd love to hear from you!
Please reach out to us below or call our office to speak to one of our team.
Sydney: (02) 9460 6611
Melbourne: (03) 9866 3644
Central Coast: (02) 4331 0400
FAX: (02) 9460 7200