WE'RE HERE TO HELP
M&A + Corporate
Whether you are taking on new investors, buying out minority shareholders, buying a company outright or selling some of the assets or the business of your existing one, the process can be a daunting and confusing one. Given the prevailing corporations law, it is especially important to make sure you are doing things properly when it comes to corporate matters.
M&A, SHARE SALES AND ASSET SALES
Every deal is different, so it is important to understand your rights and obligations when it comes time to go through a sale process, whichever side of the deal you are on. From initial conversations, through due diligence and all the way to completion and beyond, M&A is a detailed and complex process. Similarly, selling equity in your company to spur your next phase of growth is exciting but…where do you start? Do you want to sell ordinary shares or issue some new class of shares with different rights? It is imperative that you get your structure right at the beginning because it can be very difficult (and costly) to unwind these issues later. You really want to lay down clear documentation to pull it all together, so you are not leaving loose ends or room for disputes later on. You also don't want to get drawn into endless negotiations to agree on terms. We help with every phase of the M&A, share issue and sale processes, and enable you to get the deal done as smoothly as possible, without turning the process into a nightmare.
SHAREHOLDER AGREEMENTS, COMPANY CONSTITUTIONS & SHAREHOLDER OR DIRECTOR DISPUTES
Every company's shareholder arrangement is unique to them. Most companies have a Constitution, but not all, and many have a Shareholder Agreement but not all. It can be complicated when it comes time to establish your company or bring on a new shareholder, or if there is a dispute between the shareholders or Directors of a company. Where do you start? A clear and well understood Shareholder Agreement is important for smooth company governance, and to set out each shareholder's rights and obligations, in addition to the Constitution. We can assist with reviewing or updating your existing agreements and documents to ensure they reflect the current climate, best practice and your own unique circumstances.
CORPORATE COMPLIANCE
Many people involved in the day to day operation of a company (including many Directors!) are unaware of their corporate obligations when it comes to meetings, minutes, voting, records, passing resolutions and even the difference between shareholder rights and director rights, and in many instances simply rely on their accountant for "company stuff". Sound familiar? Company documentation can also kind of get lost in the mix. We can help you with understanding and keeping on top of your corporate compliance. When the time comes to (for instance) issue some new shares, you have legal obligations to pass the appropriate resolutions and issue the appropriate documents in a certain timeframe. It is important to get the right legal guidance, with reference to your company documents and the corporations law, so you are not exposed.


A MUST READ FOR EVERY CREATIVE AGENCY AND BRAND
The little black book
7 secrets revealed for turning the right legal representation & frameworks into a competitive advantage.
In this guide we reveal how the traditional legal delivery model is broke and how you can:
Win more projects
Work faster
Lower your risk exposure
Improve your client relationships
Save money
Say goodbye without burning bridges
Run a better agency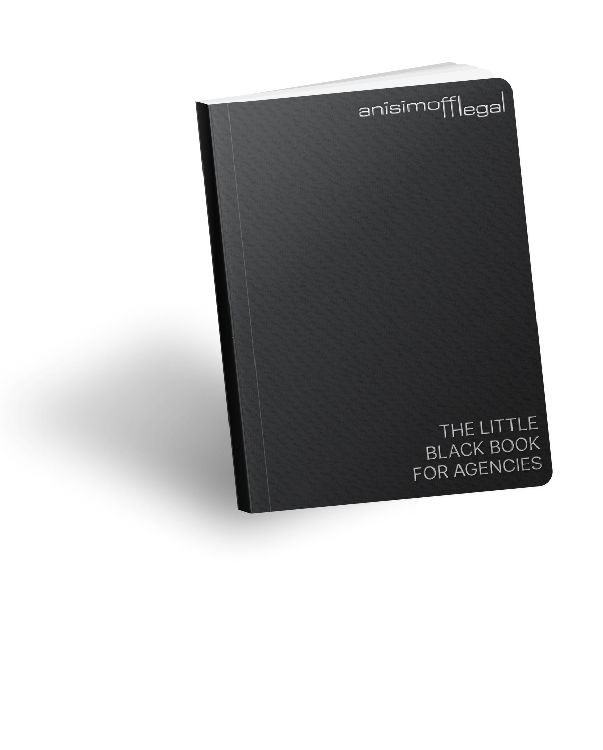 Resources for agencies and brands
We'd love to hear from you!
Please reach out to us below or call our office to speak to one of our team.
Sydney: (02) 9460 6611
Melbourne: (03) 9866 3644
Central Coast: (02) 4331 0400
FAX: (02) 9460 7200