WE'RE HERE TO HELP
Trade Promotions + Promotional Services
Trade promotions are a highly engaging marketing activity, and they often form a critical part of advertising campaigns. They need to be set up, run, and advertised, in accordance with the gaming and lottery laws in each State and Territory. Navigating this highly regulated space and dealing with the permit process can be frustrating and time consuming.
At Anisimoff Legal, we have a team of experts with years of experience that can help simplify the process and get your promotions up and running. We also deliver timely and commercially minded advice with solutions to many of the challenged posed by this densely regulated field.
WE HAVE SEEN IT ALL
Our specialists advise on all kinds of promotional activities, right from the initial concept stage through to development and implementation – and the inevitable hassles along the way.
We are experts on negotiating the relevant State/Territory promotion lottery legislation in Australia, drafting and reviewing Terms & Conditions, preparing and lodging permit applications, liaising with lottery departments and securing permit approvals. We can also provide expert and timely global advice for international competitions and promotions through our network of agents overseas.
We also advise on development and implementation of your internal regulatory regimes and compliance methods to secure your promotional campaigns from the inside out.
HOW CAN WE HELP YOU?
Our dedicated and passionate team of lawyers and paralegals work tirelessly to draft and review terms and conditions, apply for and obtain the various trade promotion lottery permits where required and review advertising materials related to promotions.
Our advice is always commercially minded, looking to provide the best solutions for our clients, with a clear risk analysis that enables you to roll out your initiatives efficiently and confidently. We will always have in mind your marketing objectives, and balancing these these with technical regulatory compliance is always at the forefront of our priorities.
EXPERIENCE MAKES THE DIFFERENCE
Our senior team members have worked in the promotional space for over 15 years, and have advised on a dizzying array of promotional permutations. From contingency games, scavenger hunts, tipping competitions, radio and TV based activities and social media giveaways, our team can confidently advise on any promotional concept and provide solutions to the regulatory and legal challenges no matter how ambitious the concept may be.
BUT THAT'S NOT ALL FOLKS
To round out our promotional services we also offer a range of supplementary services to assist you with promotion management, including conducting and scrutineering draws, contacting winners, notifying lottery departments of results and publishing winner announcements. Partnering with us means your promotion receives on-going attention and legal sign-off by qualified solicitors with unparalleled experience in promotion law who are focused on providing creative, fast, and commercial results at a reasonable cost.


A MUST READ FOR EVERY CREATIVE AGENCY AND BRAND
The little black book
7 secrets revealed for turning the right legal representation & frameworks into a competitive advantage.
In this guide we reveal how the traditional legal delivery model is broke and how you can:
Win more projects
Work faster
Lower your risk exposure
Improve your client relationships
Save money
Say goodbye without burning bridges
Run a better agency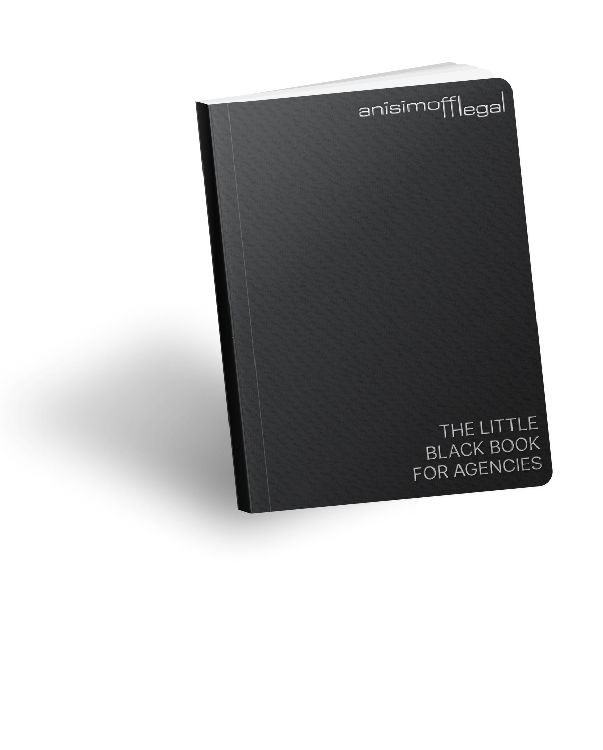 Resources for agencies and brands
We'd love to hear from you!
Please reach out to us below or call our office to speak to one of our team.
Sydney: (02) 9460 6611
Melbourne: (03) 9866 3644
Central Coast: (02) 4331 0400
FAX: (02) 9460 7200